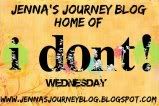 It's that time of the week again so head on over to
Jenna's Journey
and participate in I don't Wednesday!
I don't like my naturally wavy hair. I strighten it every day. It's a total pain in the rear and takes FOREVER.
I don't like sleeping alone. It's weird not having Dan there.
I don't like Colgate BubbleFruit Toothpaste. I accidentally used my kids toothpaste this morning and it was DISGUSTING!
I don't like being bearfoot in public places. I will stay in the most uncomfortable shoes imaginable before I will take my shoes off in public. The thought of stepping in something gross is more than I can stand. Infact my skin is crawling just writing this!